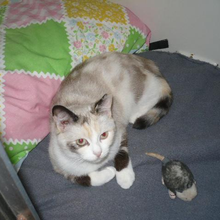 http://www.razoo.com/story/Linda?referral_code=shar
Every time we run a successful teespring campaign, 10% of all profits will be donated toward bringing an animal out of a high kill shelter and into the safe hands of the Homeward Trails Animal Rescue located in Arlington, VA USA. Thankfully, we reached our goal during our last campaign which ended yesterday and have decided to help sponsor Linda, a beautiful and sweet cat who is currently in a high kill shelter. She enjoys the company of both people and other cats. An additional $28 is needed to reach the $100 goal so that Linda's life can be saved. She is in dire need of our help as time is very quickly running out for her. In order to re-launch our last Million People For Pets teespring campaign (holiday hoodies) and to further help Linda, 15 more shirts need to be pre-ordered so that we can be guaranteed of going to print. Orders can be placed at:
http://teespring.com/millionpeopleforpetsholidays
. Please consider donating to Linda's cause in any way you can so that her life can be saved. All animals deserve to live a life filled with unconditional love and one by one, we can all make a difference. -Heather Steall, Million People For Pets. .