WELCOME TO OUR STORE. PAGE IS UNDER CONSTRUCTION. PLEASE VISIT US AGAIN SOON.
The items sold in our online store are labelled with our logo which symbolizes our committed effort to help the animals. Ten percent of all proceeds each month will be divided equally between the Humane Society International and the Homeward Trails Animal Rescue located in Arlington, Virginia USA.
The Humane Society International is an international animal protection organization that works to protect all animals - including animals in laboratories, farm animals, companion animals, and wildlife. Our monthly donation will assist the Humane Society International in their quest to protect animals around the world from cruelty and neglect.
For more information on the Humane Society International, please visit their website at: http://www.hsi.org/.
Homeward Trails Animal Rescue, the second organization we will be supporting is one that I hold near and dear to my heart as it is where I adopted both Ray Ray and BB Steall. Homeward Trails has partnered with several high kill shelters in the Mid-Atlantic Region and each month we will sponsor designated pets in these shelters so that Homeward Trails will be able to rescue them. Our donations will go to specific animals of our choice which will help to offset the rescue costs so that they can be brought to safety in the Washington, DC area. Homeward Trails will then care for them until they are able to be placed in foster and/or forever homes.
You can follow the animals that we sponsor each month on our blog:
http://millionpeopleforpets.com/monthly-sponsored-pets.html
. We will ultimately be giving these animals a voice and the opportunity for a second chance at living a life filled with happiness, joy and unconditional love.
For more information on the Homeward Trails Animal Rescue, please visit their website at:
http://www.homewardtrails.org/
.
__________________________________________________________________________________________________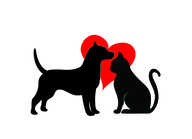 Million People For Pets, LLC
Email: hsteall@aol.com
Phone: 443.895.4307